China Philately Vol. I Foreign Post Offices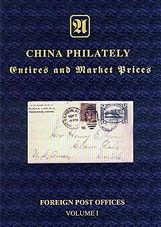 Broschüre (Softcover) Ausgabe 1997 (Edition 1997) Englischer Text (English text) 700 Abbildungen (700 images) Format DIN A4, 265 Seiten (297 x 210 mm, 265 pages) Preis 35 Euro inkl. MwSt.
Auslandspostämter von Frankreich, Japan, Deutschland inkl. Kiautschou, Russland und USA; Bahnpost, Feldpost, Schiffspost, Kriegsgefangenenpost, Vertragshäfen; Abbildungen, Beschreibungen und Auktionsergebnisse von 650 Belegen, Überblick über die historischen Hintergründe in China um die Jahrhundertwende; Kartenwerk
Book for all those collectors who are interested in entires once dispatched at Foreign Postal Offices in China at the turn of the 19th to 20th century (see the TOC below).
On the 265 pages are shown about 700 bw pics of covers and cards. In addition the book contains some historic cards of that region and images of postal cancellations of the Russian Post in China according to Tschilinghirian.
The entires are described in brief but exponentially and - and this is the special value of this catalogue - for each of them is shown the price, to be exact: the price this item was sold for at one of the international auction companies. Thus you will have the real prices and not only estimates. If you add further 20 to 25 percent (auction surcharge) you will exactly know what this card or cover is worth or at least was worth a buyer.

For our foreign customers, order in english: